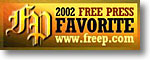 White Pine Seedling Plugs
(a.k.a. Eastern White Pine)
(Pinus Strobus)
Eastern White Pine are the kings of the Eastern forests and the tallest evergreen tree in North America. White Pine reach heights of up to 200 feet tall with a spread of up to 40 feet during a life span of easily 200 years. It's long blue-green needles average 2 to 5 inches in length, and lower branches often fall away as it reaches maturity, leaving a tall bare trunk with a "crown" of branches at the top. It is also known as Northern White Pine or just White Pine.

White Pine prefer full sun and well drained soils, and so planting in light to dark sandy soils in open spaces is ideal. Their height, branching nature and seed type make them an ideal squirrel, chipmunk and bird shelter and food source. Birds of prey often nest in White Pine due to the high vantage point and the animals attracted by it's seed.
PLEASE NOTE that the root plug of this specific plug seedling is slightly larger in diameter than our other plug seedlings, and the drill planting method will require a 1.5" drill bit, or some back and forth wiggling around of a 1" drill bit to create a large enough hole.
PLANT IN RECORD TIME:
Watch how to plant these evergreen seedling plugs faster and with less effort than any other type of "bare root" evergreen seedling. With just a cordless drill, any old rusty/dull 1 inch drill bit you have lying around, and a few simple items, you can realistically plant upwards of 100 plug seedlings in an hour. Your back will thank us later :)
AVAILABLE FOR PREORDER NOW, SHIPPING BEGINS LATE SEPT, 2014
This specific evergreen species/size is available for pre-order right now, with shipping beginning the week of Sept 29 [shipping info]. Note that other species/sizes may have other beginning ship dates. To guarantee availability, you are welcome to place an order now and we'll reserve them in your name. If you'd like to delay shipment to later in the Fall, please specify a ship date in a follow up email after placing your order. Shipping season for this specific evergreen species/size ends the week of December 15, 2014 and will resume just after the new year.

PACKAGING OPTIONS:
We offer individual plastic packaging, eco-friendly packaging, cotton gift bag packaging and custom pendants for all sizes of plugs, each option sold separately in matching quantities.
Prices include all shipping and handling charges
---

5-pack:
$23.00

10-pack:
$33.00

25-pack:
$59.00

50-pack:
$94.00

100-pack:
$140.00
OTHER SIZES AND OPTIONS:
White Pine are offered in the following sizes:
• bare root seedling
• bare root transplant
• plug seedling
• plug transplant [sold out till Fall 2015]
Comparable/alternative species: Austrian Pine, Ponderosa Pine, Red Pine
Confused about species? Check out our Evergreen Tree Buyers Guide
Pictures of mature White Pine

These pictures are for general identification and description only. As your trees reach maturity, they may vary slightly in size, color, and general appearance.
Approx 3-6 inches
---
Prefers zones 3-7
---


Suitable for full sun
---
QUARANTINE:
California and Oregon residents: We cannot ship this species of tree to you due to your state's quarantine restrictions. View our CA/OR quarantine list >>
QUARANTINE:
Washington residents: We cannot ship this species of tree to the state of WA due to your state's quarantine restrictions. View our WA quarantine list >>